Cosmetic Dentist in Uncasville, CT
Dr. J. Nicholas Utz
Dr. Utz has been in private practice for 27 years. After receiving his DDS from Howard University in Washington, D.C., in 1984 he completed his residency at the Veteran's Administration Medical Center in Dayton, Ohio.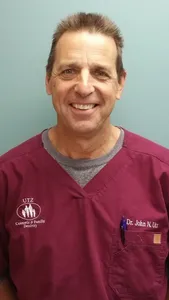 The recipient of Excellence Awards in both Advanced Functional Aesthetics and Advanced Functional Restorative Dentistry from the Las Vegas Institute for Advanced Dental Studies, Dr. Utz is committed to providing state-of-the-art care for his patients. His continuing education includes Gordon Christensen's Annual Clinical Update Seminars, special training with Ultradent and Invisalign technologies, and Connecticut State Dental Association (CSDA) Charter Oak educational events. He also serves as a Cooperator at the Lawrence & Memorial Hospital in New London.
In addition to CSDA, Dr. Utz is a member of the American Dental Association, Academy of General Dentistry, Academy of Laser Dentistry and the New London Dental Society. He is also active in community organizations, including Lions Club, Rotary Club and the Chamber of Commerce of Southeastern Connecticut. Dr. Utz enjoys golf, skiing, gardening and home renovation.